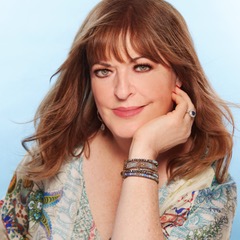 "I'm always surprised whenever a song pops into my head," says Ann Hampton Callaway. It's a funny and revealing thing for any successful songwriter to say, especially one whose compositions have been recorded and performed by some of the biggest names in the business - among them, Barbra Streisand, Carole King, Patti LuPone, Liza Minnelli, Karrin Allyson, and Michael Feinstein, to name a few. As for how the muse appears, Callaway says, "Sometimes it can be a musical idea first, or other times it's a line I hear or even a title. It's always an 'a-ha' moment. One second, there's nothing, and the next it's all right there. If I've learned anything over the years, it's that I have to be open to receiving that gift whenever it happens."
She laughs and adds, "I think the French poet Andre Gid said it best: 'Art is the collaboration between God and the artist, and the less the artist does, the better.'"
Were songwriting Callaway's only talent, she would bear the distinction of being one of the best in the business, as evidenced by her recent induction to the Women Songwriters Hall of Fame. But she's also a mesmerizing all-around performer - singer, pianist, actress - whose mastery of jazz, pop, and cabaret has thrilled audiences across the globe, whether she appears on concert stages, theaters, or on film and TV. Broadway World voted her Entertainer of the Year, and Best Jazz Vocalist two years in a row, and she received a Tony Award nomination as Best Actress in a Featured Role in a Musical for her knockout performance in Swing!
As an interpreter of the Great American Songbook, Callaway is without peer. With her richly expressive voice, exuberant wit, and heartfelt delivery, she doesn't so much sing a song as she lets you in on a feeling. Just recently, she released her most personal album - her first to feature all-original songs - with Finding Beauty, Originals Volume 1, on which she combed through her own vast catalog of material and delivered bravura performances both solo and with a glittering array of guests such as Melissa Manchester, Tierney Sutton, Kurt Elling, Niki Haris, Jarrett Johnson, and Callaway's frequent musical partner (and real-life sister), the Tony-nominated and Emmy-winning Liz Callaway. Produced and arranged by Trey Henry and Paul Viapiano for the Chemistry, Finding Beauty is brimming with standout moments, among them a haunting and intimate take on "At the Same Time," already beloved for Barbra Streisand's recording from her No. 1 platinum smash Higher Ground.
"On Finding Beauty, I wanted to tell my story and share the deepest part of me," Callaway says. "What better way than by singing songs I've written? I wanted a cohesive statement that would share my stories of love, from my first to my last. It was a thrill to explore these songs with the great artists who appeared with me. Everybody helped to make this album a truly beautiful experience."
Finding Beauty comes hot on the heels of another luminous album, Fever: A Peggy Lee Celebration, a heartfelt and stunning tribute to one of Callaway's biggest influences who has been called the "Queen of American pop music." With both deep reverence and her unique flair for phrasing and theatricality, Callaway performs many of Lee's hallmark songs - everything from "Johnny Guitar" to "I Don't Know Enough About You" - but she also premieres Lee's never-before-recorded "The Other Part of Me" as well as "Clair de Lune," a poem Lee had written for which Callaway composed the music.
Fever: A Peggy Lee Celebration is part of an ongoing legacy series in which Callaway honors other musical inspirations - in 1996 she saluted Ella Fitzgerald with To Ella with Love, and in 2014 she paid homage to Sarah Vaughan with From Sassy to Divine: The Sarah Vaughan Project. To date, she's released 17 solo albums that have delighted both critics and fans - among them, Bring Back Romance, At Last, Blues in the Night and Jazz Goes to the Movies. She's issued holiday favorites such as This Christmas and The Hope of Christmas, and with her sister Liz, she recorded their award-winning act Sibling Revelry as well as their highly acclaimed show Boom! Live at Birdland.
She points to two albums that represent significant growth. On 1997's After Ours, her first full jazz recording, she threw caution to the wind and dispensed with written music and charts. On cuts like Miles Davis' "All Blues" and the Gershwin chestnut "They Can't Take That Away from Me," she let the magic of improvisation flow freely. "I worked with some marvelous musicians on that one," Callaway recalls. "[Pianist] Kenny Barron and [bassist] Jay Leonhart were so focused. We just called a bunch of tunes and were totally in the moment. I feel as if that experience made me a better artist."
She also cites 1999's Easy Living, on which she wanted to capture the warmth and intimacy of a true live performance in the studio. When singing outside a traditional isolation booth while a top-notch band (which again included Barron as well as pianist Bill Charlap, along with trumpet legend Wynton Marsalis) responded to her sumptuous voice, she created indelible moments of spontaneity. "On that record, the feeling was, 'We're all in this together,'" she says. "There was electricity in the room because we were so attuned to one another."
Callaway's career got off to a rousing - and historic - start when she became the only artist to collaborate with Cole Porter. After a friend presented her with a poem written by the late composer, she wrote the music to "I Gaze in Your Eyes." Callaway began singing the song at clubs, and audiences were spellbound. Once the rights were secured from the Porter estate, she recorded the song on producer Ben Bagley's compilation album Cole Porter Revisited and finally on her first solo CD, Ann Hampton Callaway. "I mean, talk about feeling validated," Callaway says. "It was the very first track I had done on my first album, so it was an auspicious way to start. The song has had a wonderful life since then and has been covered by other artists. It was the beginning of a fun adventure."
With characteristic humility, Callaway insists that she's "a well-kept songwriting secret," but the bevy of high-wattage artists who have recorded her compositions would beg to differ. In addition to "At the Same Time," two more of her songs, "I've Dreamed of You" (a collaboration with lyricist Rolf Løvland) and "Christmas Lullaby" have been recorded by Barbra Streisand - together, the tracks have been included on seven Streisand albums with sales exceeding nine million copies. "Each time Barbra has done one of my songs, it's an incredible thrill that's difficult to describe," she says.
In an unexpected turn, Callaway reached untold millions - make that billions - of ears when she wrote and performed "The Nanny Named Fran," the effervescent theme song to the hit TV series The Nanny. "It's sort of funny that it's the most-renowned song I've ever written," she says. "It's very interesting territory to be part of, having something that's so well-known as that. CNN did a special on theme songs, and Don Lemon said that mine might be the most significant theme in TV history. I was like, 'Wow.' You never know, right?"
Callaway's artistry is far-reaching, spanning genres and platforms. In addition to recording and singing, she's an educator, TV host and actress - she made her feature film debut opposite Angelina Jolie and Matt Damon in the Robert De Niro film The Good Shepherd. Through the years, her awards continue to grow: The Theater World Award, 16 MAC Awards, several Bistro Awards, The Mabel Mercer Award, and The Johnny Mercer Award for Songwriting, among other accolades.
Whether she's performing at Lincoln Center or on Broadway, with the Boston Pops or the San Francisco Symphony, she keeps close to her heart the healing power of the music she shares. "My intention is to always bring love and ideas, and to spread a vision of the human experience of what we go through as we risk to love each other and take a step forward," she says.
She once sang for President Bill Clinton, and she famously brought former Soviet leader Mikhail Gorbachev to tears with her stirring a capella performance of "At the Same Time." "It's a peace song," Callaway notes. "I was very moved when Patti LuPone chose to sing it during a TV special for AIDS awareness." On her own, Callaway is fiercely committed to philanthropic and humanitarian causes, having donated her time and talents to numerous benefits for disaster victims over the years. "I don't know if music can solve all the world's problems," she says, "but as an artist, I think we can sure try our best."
She recalls a conversation with her wife, Kari Strand, after she garnered The Blanton Peale Award for Positive Thinking. "Kari said, 'Are you really an optimist?' And I said, 'Well, I am, but I'm a worried optimist.' I think that covers all the bases."
Summing up her career at present, having realized a long-held goal of recording an album of her own songs on Finding Beauty, Originals Volume 1 (a title that indicates a sequel is in the works), Callaway says, "We all talk about 'someday,' but to me, someday is now. I'm the poster child of dreams having a long arc to come true. Many people give up. I just had faith that in time the right moment would come."